Turkey is a leading destination for dental tourism thanks to modern infrastructure and its qualified dentists. According to the Turkish Minister of Health "Fahrettin Koca" in January 2020 in total there are 32,859 dentists. So several thousand practices are spread across the country. So, how to make the right choice and avoid the risks as much as possible? For this, we have made a ranking of the best dental clinics in Turkey and specifically in the Istanbul region.
Why patient reviews?

Several points are to be taken into consideration by a person who wishes to undertake the trip to Turkey, whether for implants, crowns or others:
- The price
- The Doctor's Experience
- Patient reviews
- The materials used for treatment
- Comfort
- The strategic location of the clinic
But, in most cases, the opinions of relatives or former patients certainly influence more our decision making. In order to make your choice easier, we collected reviews from more than 500 clinics and practices in Istanbul from several sources (Google, Facebook, Trustpilot...). Then, we eliminated those who had few or no reviews. Finally, we kept only the top 10 dental practices/clinics that had a total of over 400 reviews.
The result: Cytident ranks first as the best dental clinic in Istanbul, followed by Esnan and Hospitadent.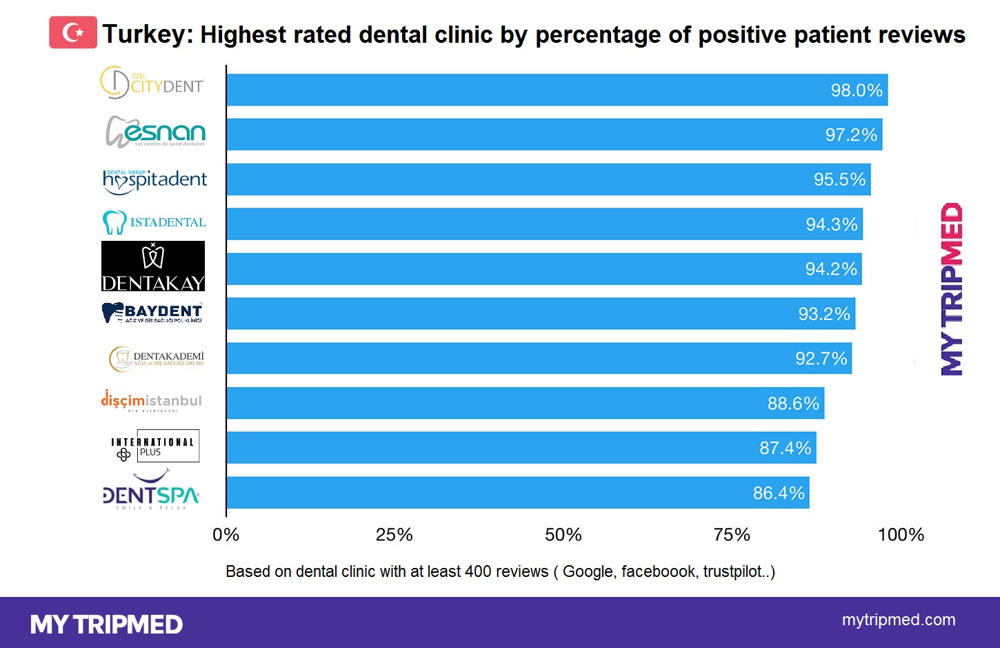 Compare to better choose your dentist
We are accustomed to comparing prices for a trip or for our car insurance. So why not do it when choosing your next dentist? If you are looking for a dental treatment in Turkey, you can compare prices with Mytripmed for:
- Crown
- Veneer
- All-on-4
- All-on-6
In conclusion, travelling just to save money is fine, but it's not worth it if you risk getting an inexperienced or dishonest dentist. So compare, compare and research thoroughly before committing yourself.